Adicionado ao caderno com sucesso!!
PI.5310
Spotlight for application in three-phase electrified track.
Beam – closed, medium, open.
---
Technical specifications
Type of use / Interno
Composition / treated and painted steel.
Finishing / microtextured polyester powder coating, UV resistant, Rohs standardized.
Observation / this product can be fixed on single-phase (AC.0010) or three-phase (AC.0011) electrified tracks, holders directly on the ceiling (AC.0013) or on hooks for fixing on profiles (AC.0014). Solutions with IRC>90 and DALI equipment available under request.
| | Code | Light source | Power | Beam angle | Luminous flux | Luminoues intendity | CCT | IRC | Socket | Service life | Auxiliar equipament | |
| --- | --- | --- | --- | --- | --- | --- | --- | --- | --- | --- | --- | --- |
| | PI.5416.1.14.LED1100 | Módulo LED | 10W | 14° | 1322 lm | 12050 cd | 4000K | >80 | Holder | 50.000h (25°C) | Driver 220V | |
| | PI.5416.1.14.LED1100 | Módulo LED | 10W | 14° | 1401 lm | 12150 cd | 3000K | >80 | Holder | 50.000h (25°C) | Driver 220V | |
| | PI.5416.1.14.LED2000 | Módulo LED | 20W | 14° | 1739 lm | 12125 cd | 3000K | >90 | Holder | 50.000h (25°C) | Driver 220V | |
| | PI.5416.1.14.LED2000 | Módulo LED | 20W | 14° | 2437 lm | 14790 cd | 3000K | >80 | Holder | 50.000h (25°C) | Driver 220V | |
| | PI.5416.1.14.LED2000 | Módulo LED | 20W | 14° | 2742 lm | 14840 cd | 4000K | >80 | Holder | 50.000h (25°C) | Driver 220V | |
| | PI.5416.1.14.LED3000 | Módulo LED | 27W | 14° | 2657 lm | 15970 cd | 3000K | >80 | Holder | 50.000h (25°C) | Driver 220V | |
| | PI.5416.1.14.LED3000 | Módulo LED | 27W | 14° | 3135 lm | 13760 cd | 3000K | >90 | Holder | 50.000h (25°C) | Driver 220V | |
| | PI.5416.1.14.LED4500 | Módulo LED | 40W | 14° | 4419 lm | 17150 cd | 3000K | >80 | Holder | 50.000h (25°C) | Driver 220V | |
| | PI.5416.1.14.LED4500 | Módulo LED | 40W | 14° | 4685lm | 15140 cd | 3000K | >90 | Holder | 50.000h (25°C) | Driver 220V | |
| | PI.5416.1.24.LED1100 | Módulo LED | 10W | 24° | 1405 lm | 6404 cd | 3000K | >80 | Holder | 50.000h (25°C) | Driver 220V | |
| | PI.5416.1.24.LED1100 | Módulo LED | 10W | 24° | 1427 lm | 6090 cd | 4000K | >80 | Holder | 50.000h (25°C) | Driver 220V | |
| | PI.5416.1.24.LED2000 | Módulo LED | 20W | 24° | 1718lm | 7341 cd | 3000K | >90 | Holder | 50.000h (25°C) | Driver 220V | |
| | PI.5416.1.24.LED2000 | Módulo LED | 20W | 24° | 2449 lm | 8918 cd | 3000K | >80 | Holder | 50.000h (25°C) | Driver 220V | |
| | PI.5416.1.24.LED2000 | Módulo LED | 20W | 24° | 2540 lm | 9373 cd | 4000K | >80 | Holder | 50.000h (25°C) | Driver 220V | |
| | PI.5416.1.24.LED3000 | Módulo LED | 27W | 24° | 2603 lm | 10680 cd | 3000K | >80 | Holder | 50.000h (25°C) | Driver 220V | |
| | PI.5416.1.24.LED3000 | Módulo LED | 27W | 24° | 2896lm | 9429 cd | 3000K | >90 | Holder | 50.000h (25°C) | Driver 220V | |
| | PI.5416.1.24.LED4500 | Módulo LED | 40W | 24° | 4145 lm | 12290 cd | 3000K | >80 | Holder | 50.000h (25°C) | Driver 220V | |
| | PI.5416.1.24.LED4500 | Módulo LED | 40W | 24° | 4403 lm | 10970 cd | 3000K | >90 | Holder | 50.000h (25°C) | Driver 220V | |
| | PI.5416.1.40.LED1100 | Módulo LED | 10W | 40° | 1258 lm | 2739 cd | 4000K | >80 | Holder | 50.000h (25°C) | Driver 220V | |
| | PI.5416.1.40.LED1100 | Módulo LED | 10W | 40° | 1278 lm | 2861 cd | 3000K | >80 | Holder | 50.000h (25°C) | Driver 220V | |
| | PI.5416.1.40.LED2000 | Módulo LED | 20W | 40° | 1809 lm | 4106 cd | 3000K | >90 | Holder | 50.000h (25°C) | Driver 220V | |
| | PI.5416.1.40.LED2000 | Módulo LED | 20W | 40° | 2365 lm | 5345 cd | 3000K | >80 | Holder | 50.000h (25°C) | Driver 220V | |
| | PI.5416.1.40.LED2000 | Módulo LED | 20W | 40° | 2544 lm | 5164 cd | 4000K | >80 | Holder | 50.000h (25°C) | Driver 220V | |
| | PI.5416.1.40.LED3000 | Módulo LED | 27W | 40° | 2805 lm | 6012 cd | 3000K | >80 | Holder | 50.000h | Driver 220V | |
| | PI.5416.1.40.LED3000 | Módulo LED | 27W | 40° | 2815 lm | 5345 cd | 3000K | >90 | Holder | 50.000h (25°C) | Driver 220V | |
| | PI.5416.1.40.LED4500 | Módulo LED | 40W | 40° | 4029 lm | 6404 cd | 3000K | >90 | Holder | 50.000h (25°C) | Driver 220V | |
| | PI.5416.1.40.LED4500 | Módulo LED | 40W | 40° | 4119 lm | 7014 cd | 3000K | >80 | Holder | 50.000h (25°C) | Driver 220V | |
| | PI.5416.1.55.LED1100 | Módulo LED | 10W | 55° | 1258 lm | 1847 cd | 4000K | >80 | Holder | 50.000h (25°C) | Driver 220V | |
| | PI.5416.1.55.LED1100 | Módulo LED | 10W | 55° | 1287 lm | 1906 cd | 3000K | >80 | Holder | 50.000h (25°C) | Driver 220V | |
| | PI.5416.1.55.LED2000 | Módulo LED | 20W | 55° | 1786 lm | 2710 cd | 3000K | >90 | Holder | 50.000h (25°C) | Driver 220V | |
| | PI.5416.1.55.LED2000 | Módulo LED | 20W | 55° | 2319 lm | 3140 cd | 3000K | >80 | Holder | 50.000h (25°C) | Driver 220V | |
| | PI.5416.1.55.LED2000 | Módulo LED | 20W | 55° | 2427 lm | 3332 cd | 4000K | >80 | Holder | 50.000h (25°C) | Driver 220V | |
| | PI.5416.1.55.LED3000 | Módulo LED | 27W | 55° | 2776lm | 3939 cd | 3000K | >80 | Holder | 50.000h (25°C) | Driver 220V | |
| | PI.5416.1.55.LED3000 | Módulo LED | 27W | 55° | 2782 lm | 3939 cd | 3000K | >90 | Holder | 50.000h (25°C) | Driver 220V | |
| | PI.5416.1.55.LED4500 | Módulo LED | 40W | 55° | 3939 lm | 4488 cd | 3000K | >90 | Holder | 50.000h (25°C) | Driver 220V | |
| | PI.5416.1.55.LED4500 | Módulo LED | 40W | 55° | 4006 lm | 4939 cd | 3000K | >80 | Holder | 50.000h (25°C) | Driver 220V | |
Arraste para ver mais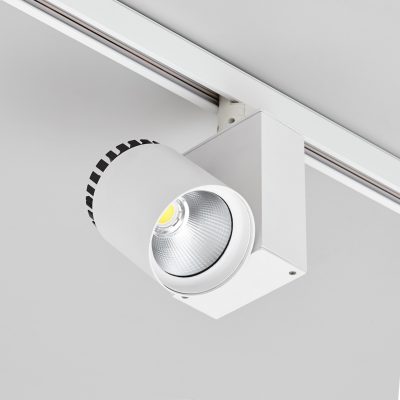 Spotlight with three-phase or single-phase track installation.  Illumination with a variety of beams:…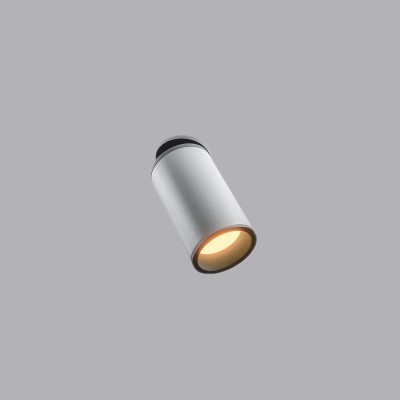 Simple and striking. Atmo's spotlights have a discrete and delicate design that enhances…